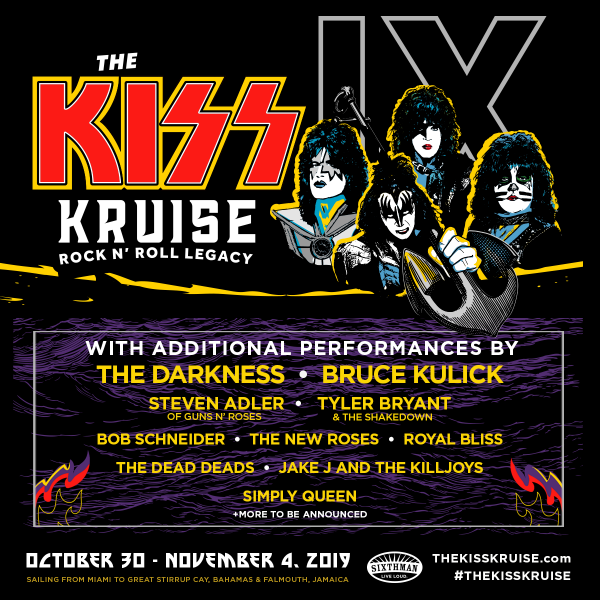 Lineup Additions!
Monday, June 10, 2019
The KISS Kruise IX is excited to welcome The Darkness, Steven Adler of Guns N' Roses, Jake J and The Killjoys, and Simply Queen to this year's lineup!
In 2003, The Darkness released their debut album Permission To Land with overnight success, topping the UK charts, going 5x Platinum and selling over 1.5 million copies in the UK alone. It spawned a series of hit singles including 'I Believe In A Thing Called Love', 'Growing On Me', 'Get Your Hands Off My Woman' and 'Love Is Only A Feeling'.
Steven Adler, best known as the founding drummer of "GUNS N' ROSES", one of the most influential, groundbreaking hard rock bands to emerge from the late-80′s L.A. hard rock scene, has returned to pick up where he left off with his re-energized line up of musicians. GN'R's debut album, "APPETITE FOR DESTRUCTION," which features Adler's signature groove, will forever be considered one of the greatest rock albums ever made.
From roach infested clubs to sold out arenas, Jake J and the Killjoys deliver an out for blood stage show that brings horror aesthetic and heavy rock and roll together. These nocturnal nobodies from Nashville have a unique sound that has been compared to My Chemical Romance and Avenged Sevenfold.
Simply Queen is fronted by Freddie Mercury impersonator extraordinaire Rick Rock. Guitarist Bob Wegner was hand-picked by Queen's Brian May and Roger Taylor to play guitar in several productions of the award-winning "We Will Rock You" musical. Drummer Phil Charrette and bassist Mitch Taylor are veterans of the southwestern Ontario and Detroit circuits.
---