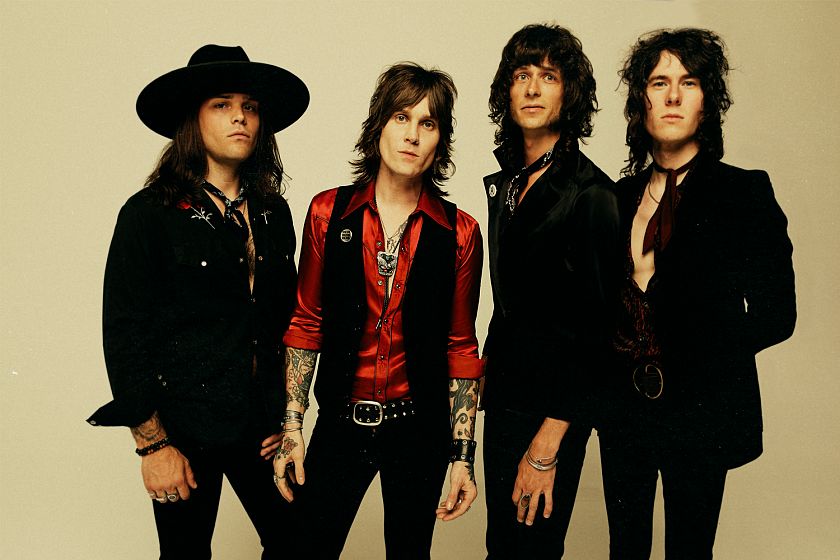 Tuk Smith & The Restless Hearts
Tuk Smith & The Restless Hearts
If rock is dead, someone forgot to tell Tuk Smith. After cutting his teeth -- among many other things -- for nine years as the frontman for the Atlanta rock band Biters, Smith's solo debut sees him further expanding the reaches of his musical vision into an album that unifies his love of rock, punk and glam into a unique amalgam that's missing from today's musical landscape. Produced by the legendary Rob Cavallo (Green Day, My Chemical Romance), the album is the culmination of Smith's already impressive musical career and showcases the versatility of his songwriting. From instantly infectious anthems like "What Kinda Love" to intricately arranged rockers such as "Neon City Blues" and Americana-tinged ballads like "Born A Rebel," . Lookin' for Love, Ready for War favors dedication over debauchery. In many ways it's a musical homecoming for Smith that shows that though he's covered with battle scars from perfecting his craft, he's come out on the other side with this collection of songs.
Smith's musical roots run deep. Growing up as an outsider in rural Georgia, he found solace in hardcore/punk acts like Black Flag and The Exploited. From there, Smith branched out into exploring seventies New York bands like The Dead Boys and New York Dolls, which lead him across the sea where he embraced first-wave British acts like The Buzzcocks and The Clash. Smith wasn't just a casual fan of these acts, he was obsessed with them and traced their lineage with fervent dedication. "I was always into The Clash growing up and Mick Jones' favorite band was Mott The Hoople, so through the years I ended up developing a love of the first wave of British glam, power pop and things like that," he explains. Soon Smith was forming his own acts, toured relentlessly and building a DIY following with his high-energy live shows, most recently Biters, who he fronted for nearly a decade. In other words, Looking for Love, Ready for War is an album that's a long time in the making.
That said, the album you're hearing today wouldn't sound nearly as massive if it wasn't for the fact that Cavallo, who produced Green Day's landscape-shifting Dookie, wasn't such a huge advocate for Smith, agreeing to produce the album on the strength of hearing him perform these songs on acoustic guitar. Tuk explains ..."The way the music industry is going, a lot of people don't get the opportunity to make a big rock album anymore but that's exactly what we did." Going into this album I had some fear that I was going to be forced by Rob or the label to do something I didn't want to do,but he didn't try to change me or change the songs. I see why he's so successful because he just tries to pull the best out of you. "There was no ulterior motive or Hollywood bullshit, we just made a rock n' roll record."
Smith wrote and demoed 40 songs in his home studio in Georgia leading up to the recording of Lookin' for Love, Ready for War. While it wasn't easy to pare it down to 13 songs, the end result spans genres and decades. The backbone of the album consists of upbeat, guitar-heavy songs like "Troubled Paradise" and "Goin Out In Style," however the beauty of these songs is if you stripped away the massive arrangements they would sound just as powerful in the garage as they would in an arena. "The goal with this record was to write songs as if they were classic songs and use all the elements of rock n' roll that I love, but the arrangements were to make them really compete with what's going on today," he explains. "I call them one foot in the past and one foot in the future." Correspondingly, deeper cuts like gospel-tinged "Love Don't Live Here Anymore" show that Smith didn't water down his musical vision on Lookin' for Love, Ready for War. If anything his musical personality here is more expansive than ever.
Lyrically, Smith also decided to put it all out on the line and not hold back when it came to expressing himself in an authentic way. "A lot of the lyrics are definitely from my own experiences and the people that surround me," he explains. "When I listen to music what gives me emotion and gives me joy about music is when I can relate to something. That's why I'm not singing about swords or dragons or drinking lean or riding in a Lamborghini. For me, it was important to write about real things that I could relate to so they had some kind of meaning and some kind of energy to them," he adds and songs like "Love Don't Live Here Anymore" are a living testament to that fact. "I spent a lot of time thinking about these songs because you want your listener to understand your lyrics and sing along but you also don't want to be clichéd -- and walking that line, that was always hanging over me."
Ultimately the concepts of love and loss on Lookin" for Love, Ready for War are timeless, however, what makes them uniquely engaging is the way that Smith comes at these emotions with his own unique perspective and life experience. Whether it's in the form of a Motown-influenced ballad like "Too Late To Cry" or the Joan-Jett-meets-John-Mellencamp grandeur of "What Kinda Love," this collection of songs is a testament to the fact that you don't need to follow trends in order to create art that fosters a connection with your audience. "At their heart, the songs are just chords a melody and a lyric, and I can't wait to share them with fans all over the world "