What is The KISS Kruise V?
Attention, KISS Navy! For 40 years, KISS has been in the business of rock and roll, recruiting legions of fans from all walks of life and every corner of the globe. The time has come to take on your next mission which will surely be the most epic adventure the high seas have ever seen…The KISS Kruise V! We'll be sailing from Miami to Jamaica, October 30 – November 3, 2015 aboard Norwegian Pearl, the central hub for all KISS maniacs worldwide.
We're going back to the golden age when KISS rose to prominence, taking the world by storm. What better way to celebrate the rise of these rock legends than to watch KISS perform the very live album that launched them into greatness 40 years ago? Get ready to rock out to KISS playing their first gold album "Alive!" in its entirety. You read it right. KISS is playing "Alive!" from front to back during The KISS Kruise V indoor show.
Year five has promised to bring new surprises and drive you wild and crazy. Book a cabin during the pre-sale and receive a limited edition KISS Kruise V t-shirt mailed to your door before we sail. Halloween is in the grasp of the KISS Navy once again. You know the drill; SHOUT IT OUT LOUD on The KISS Kruise V!
How Does The Waiting List Work?
The KISS Kruise V is currently full. If we have cancelations prior to departure (which we often do), we will fill those rooms via our Waiting List.
When signing up for the waiting list, you will be asked what type of cabin you want. You will be required to put down a $199 deposit that is NON REFUNDABLE, except in the event we do not have a cabin for you by August 30, 2015. This means that we will refund your deposit if we cannot accommodate your cabin request by August 30, 2015, but you will forfeit your deposit if you decide to take yourself off the list before that time.
After August 30, 2015 we will send an email to everyone still on the waiting list asking if they would like to remain on it. If you would like to take yourself off of the waiting list at that time, you may do so and receive a check for the full refund of your deposit. If you choose to stay on the waiting list past August 30, 2015, and we cannot accommodate your cabin request before the cruise sails, we will automatically refund your deposit a few weeks after sailing.
FIRST AVAILABLE - If you chose "First Available – Waiting List First Available", you are committing to take any type of cabin that may come available, including suites.
What does the price of The KISS Kruise V include?
The price of your stateroom includes:
Round trip cruise from Port of Miami to Jamaica.
All meals (there's gourmet fare in the formal dining rooms, casual indoor and outdoor grills open for meals throughout the day and 24-hour room service).
Non-carbonated beverages (i.e. tea, juices, coffee).
Use of the ship's beautiful pool and hot tubs* (all with plenty of deck space to enjoy a cocktail and some great music).
Use of the Norwegian Pearl's amenities such as: casino, health and fitness center, 4-lane bowling alley, rock climbing wall, full sized basketball/volleyball/tennis court, and video arcade.
Norwegian's Youth Program facilities and activities if you're bringing children.**
Taxes, port charges and ticketing are added at check-out and pre-paid by you ($275.00 per person).

* Due to stage placement and weather conditions, some pools and hot tubs may be closed for safety during the cruise.
**From time to time, adjustments are made to children's program hours and locations as required by our scheduled activities.

Not included are:
Gratuities ($12.00 per person, per day will be charged to your onboard spending account).
Tickets for 3rd/4th/5th guests for the indoor KISS ALIVE! performance. See details here.
Gambling.
Spa.
Alcoholic beverages.
Soft drinks & bottled water. (However, a package is available for a low price which get you unlimited soft drinks throughout the cruise.)
While many restaurants on board are FREE, some Specialty Restaurants you choose to go to require a cover charge. (Pricing for each can be found here.)
Any meals, events or tours in the port.
Pre- or post-cruise hotels - see our Hotel page for details.
Airfare.
Ground transportation.
Travel insurance (available through Sixthman).
What is the performance schedule and how does admission work?
The exact performance schedule of all bands in The KISS Kruise V lineup will be released prior to the kruise. You can count on each band playing multiple shows occurring on multiple stages!
KISS will play an Unmasked Sail Away Show on the Pool Deck. This show is general admission for every guest to attend.
KISS Indoor Ticketed Shows
KISS will perform ALIVE! in it's entirety - front to back - two nights in the Stardust Theater. Two guests in each cabin will receive KISS Indoor Show tickets for one night. Third/Fourth/Fifth guests in a cabin may purchase a ticket to one of the KISS Indoor Shows for $250. All other third/fourth/fifth guests will NOT have a ticket.
Also available for up to 2 guests per cabin is the option to forfeit your KISS Indoor Show ticket for $250 of onboard credit*. For those traveling with someone who might not be as passionate about KISS, select the "Ticket Forfeit" option in the seat selection step during booking. This option is only available for reservations choosing less than 2 show tickets.
*All onboard credit will be applied by the second night of sailing, however, you will still need to put down some method of payment for purchases on the first night.
All other shows on board will be general admission, so you can come and go as you please.
May I purchase tickets to the other KISS Indoor Show?
No. There is a maximum of one show ticket available per person.
NEW! Update to the PIT Section
This year we have a new, easy and efficient entrance process for all guests who select a PIT ticket. Guests will be assigned a number prior to sailing based on their cabin booking date and time. Guests will be asked to arrive at the venue at specific time before the show (no need to arrive early), and everyone will be lined up in order based on their assigned number before entering the Stardust Theater. Once in the theater guests will choose their spot in the PIT. If you've flown Southwest Airlines, this will be similar to their boarding experience.
Click HERE to review the Concert Venue Maps.
What is the Pre-Party?
We've added even more fun stuff to your Official Pre-Party on October 29th!

A Special KKV Cabo Cup
When you purchase our specialty drink, "Flaming Youth", and it will be served to you in this KISS Kruise V Cabo Cup EXCLUSIVE only to the pre-party! By the way… this cup glows in the dark!
*while supplies last
And just in case you forgot....No Mandatory Safety Drill on October 30th
After our epic Pajama Party, feel free to sleep in, grab some breakfast, a drink, and sunny spot on the pool deck with your friends! When you attend the pre-party you will get that safety drill out of the way the first day you board the ship!
"A Lesson in KISStory" Sail Away Set with Big Rock Show!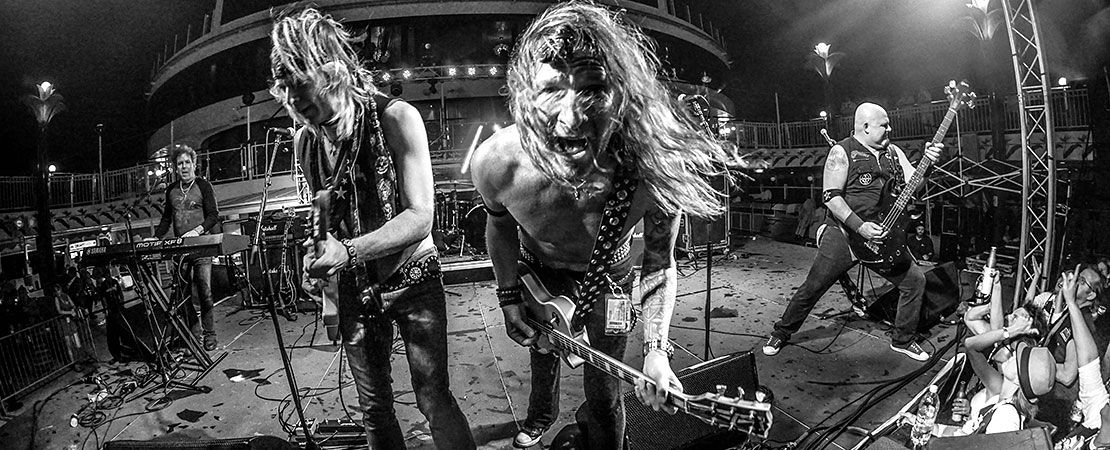 Big Rock Show will be taking the stage to play your favorite KISS tunes AND songs by some iconic bands who have opened for KISS over the years. ROCK ON!
Sign Up By September 1st!
The pre-party is a place for you to connect with other Kruisers the night before the cruise. We're going to give you a hotel and pre-party that rocks…and floats! This year Steel Panther will be melting faces with a late night show that you won't want to miss!
Check-in on the Norwegian Pearl before 7:00pm Thursday, October 29th and we'll set sail in the evening. What could be better than being out on the ocean with live music by supporting bands, a casino, and plenty of bar service for an extra night? We'll come back to pick up any additional guests the next morning. As an added bonus, you'll already be unpacked and settled, have FREE food, AND you'll get to sleep in while others are boarding!
You can reserve your stateroom for the pre-party night for a flat rate based on room category and number of guests at the same time you make your stateroom reservation. Single travelers pay twice the double rate.​*
Cost Per Person
Double (2)
Triple (3)
Quad (4)
Quint (5)
Interior
$125
$100
$88
N/A
Ocean View
$175
$133
$113
N/A
Balcony & Suites
$225
$167
$138
$120
The pre-party is only for guests sailing on KISS Kruise V in 2015.
KISS will not be in attendance at the pre-party.
Guests will stay in the same stateroom they reserve for the cruise.
The cost of the stateroom for the pre-party is determined by the number of guests in the stateroom during the cruise. For instance, if you have a triple occupancy stateroom for the cruise, you will pay the triple occupancy rate for the pre-party even if all three guests don't attend the pre-party.

ARRIVAL
You should arrive at the port no earlier than 12:30pm and must be on board by 7:00pm on Thursday, October 29th, 2015. The port is approximately 8 miles (25 minutes) from the Miami International Airport, and 25 miles (45 minutes) from the Fort Lauderdale International Airport. Please allow extra time for traffic. It is recommended that you book your flight to land in Miami no later than 2:00pm and to land in Ft. Lauderdale no later than 1:00pm. Everyone MUST be on board by 7:00pm, as we will set sail that evening.
Please allow additional time for customs clearance for international flights
*Once you've checked in and boarded the ship on the 29th, you ARE allowed to leave again as long as you are back on board by 7:00pm. You may also leave once the ship is docked on the 30th as long as you are back on board by 2:30pm.
LUGGAGE
For guests wishing to check your luggage with the porters, please arrive prior to 5:00pm. Guests who arrive after 5:00pm can carry their bags on with them.
Please contact us with any questions on the pre-party!
SAFETY DRILL
All guests attending the pre-party must attend a mandatory safety drill when you arrive in our designated assembly stations beginning at 3:00pm. There's no need to attend the safety drill the following day (10/30) if you attend during the pre-party. If you miss the safety drill during the pre-party, you must attended the safety drill the following embark day.
How do I book a stateroom?
Booking your stateroom is easy! You can book online at thekisskruise.com/booknow, or over the phone by calling 877-379-9183.
PLEASE NOTE! Lead Passengers, if you or your guest(s) needs a Sixthman Username you can create one while booking. If you and your guest have Sixthman Usernames, have your guest add you as an Approved Lead Passenger in their account. You'll then see your guest in Your Authorized Guests list and you'll be able to add them as a guest in your cabin while booking!
Anyone who has traveled with Sixthman previously has a username and will not need to create one. If you don't know your login credentials, you can recover them here.
What information will I need to book my stateroom?
Stateroom Selection: During booking you will select your desired stateroom category and occupancy, so check out the pricing page. You will select your exact room assignment, so also check out the Norwegian Pearl's deck plans on that page.
Sixthman Usernames: You'll need to login with (or create) a Sixthman Username to book. If you've traveled with Sixthman previously or signed up for the The KISS Kruise V Pre-Sale you have a username. Recover forgotten login credentials here, or contact us or try our live chat for immediate assistance. If you or a guest needs a Sixthman Username you can create one while booking.
Guest Permissions: If you were a Lead Passenger on a prior event and are sailing with the same guests, your guests will be in a dropdown list for you to add to your stateroom. If you're sailing with someone who has a Sixthman Username but has NOT sailed with you previously, have your guests login to their Sixthman profile and add your username to their 'Approved Lead Passengers' list in the 'Guest Permissions' section. They'll then be on the dropdown list for you while booking.
Naming Guests:
You can add your guests later but fees may apply. See "Can I make changes to my reservation?"
here
for more details. You are obligated for the full cruise fare of the occupancy level you select during the reservation process even if you do not add guests to fill your entire stateroom. If you wish to add guests beyond the capacity of the occupancy level you select during the reservation process you may do so based on availability for the additional cruise fare associated with the transaction.
Multiple Credit Card Payments:
If you are paying with multiple credit cards, you will need all of the credit card numbers (with expiration date and card verification number) as well as the name and billing address for each card.
How does automatic billing work?
Enroll in automatic billing, and relax knowing that your future payments will be made automatically. When you book, we'll calculate an even monthly payment plan and you'll choose the day of the month you want your payments to be processed. It's that easy! Be sure to read the Automatic Billing FAQs for the answers to all your questions.
How do I let someone add me to their stateroom?
To let someone add you to their reservation, you'll need to have a Sixthman Username and add your lead passenger to Your Approved Lead Passengers list. Create a Sixthman profile here, or login to your existing profile. Then, in the Guest Permissions section, click the "Add New Lead Passenger" button and enter your lead passenger's username. Once you save it, they'll appear in Your Approved Lead Passengers list. You're all set, the lead passenger can now add you as a guest in their stateroom!
What is a Sixthman Username, and how do I create one?
Each guest needs a Sixthman Username to create, manage, or be added to a reservation. Click here to create your Sixthman Username. Your username should be something that is easy for you to remember such as your name or nickname.
If you have traveled with Sixthman previously or signed up for the The KISS Kruise V Pre-Sale, you have a username and will not need to create one. If you don't know your username, you can recover it here. You can also contact us and we will be happy to look it up for you (try our live chat feature or contact us).
Use your Sixthman Username to login throughout the year to update your personal information, make payments, add guests, or make changes to your reservation. To manage your reservation, sign in using your Sixthman Username here.
How does travel insurance work?
Sixthman offers you a leading travel insurance plan through our partnership with Travel Insured International. Travel Insured specializes in providing quality coverage and superior customer care and claim service to our Sixthman guests. When you add our plan to your trip, you protect yourself from your policy's effective date through your return home. Your prepaid trip costs are protected against Trip Cancellation or Interruption due to an unforeseen accident or illness to you, your traveling companion or a family member. You also receive Emergency Medical Protection, Baggage Protection, Travel Accident Protection and Worldwide Emergency Travel Assistance available 24/7 during your trip.
Remember that sometimes unwelcome events occur to disrupt great trips:
You are protected, up to full trip cost, if bad weather causes your common carrier to cease operating for 24 hours or more.
Illness or injury to you or a traveling companion or immediate family member causing you to cancel or interrupt your trip.
Missed Connection coverage can pay your expenses (up to $500) to rejoin the cruise or tour when you miss the departure due to a three-hour or more flight delay.
Emergency Medical Expense covers you if you need treatment in a foreign hospital for a sudden illness or accident. We guarantee your admission!
Trip Cancellation can cover terrorist events, a job layoff (if employed for 1 or more year) or jury duty.*
Assistance will be there if you lose medications or a passport, or need help canceling lost credit cards.

This coverage must be purchased before your final payment due date. Coverage for all benefits except trip cancellation will begin on the departure date. The trip cancellation benefit will begin at 12:01 AM on the day after Travel Insured receives your application. For pre-existing conditions to be covered you need to purchase Insurance within 21 days of your deposit (other restrictions apply).
Travel Insured also offers Cancel For Any Reason 50% Protection. The Cancel for Any Reason option is only available when specifically requested on the original application and the appropriate premium has been paid. The Cancel For Any Reason benefit must be purchased within 21 days of your initial trip deposit. This benefit allows the insured to receive a refund of up to 50% of covered trip costs on reservations cancelled up to 48 hours prior to departure for any reason outside of the covered circumstances.
This is a summary only containing highlights of the plan. Download an Insurance PDF for complete terms, conditions and exclusions that apply. Please Note: Residents of Georgia, Kansas, Louisiana, Minnesota, Oregon, South Dakota, Utah, Texas and Washington have separate Certificates of Insurance in compliance with state requirements.
We know you might have questions about what is and is not covered so we encourage you to read the Insurance PDF or call Travel Insured at 1-866-684-0218 and specify you are calling about Sixthman Travel Protection.
What is the referral program for The KISS Kruise V?
You can earn money for referring your friends who have never attended a Sixthman event to The KISS Kruise V whether you are sailing with us or not!
For Cruisers: For each new cabin you refer to The KISS Kruise V, you will earn $100 credit to your onboard spending account. Referrers will see a $100 credit on their onboard spending account by the third day of the cruise.
For Non-Cruisers: For each new cabin you refer to The KISS Kruise V, you will earn $50 cash! Referrers will be sent a check after the cruise has returned to ensure the referred passenger sailed.
Policy Details: Referrals will be reconciled 2 weeks prior to sailing, and will appear on the referrer's confirmation. Please contact Sixthman PRIOR TO sailing if your referral does not appear on your confirmation.
All guests in the referred cabin must be new to any Sixthman event, and the referral must be requested at the time of booking or registering for any waiting list.
The guest booking the new cabin must put your Sixthman Username in the REFERRAL blank when placing their reservation. Referrals are not retroactive, and cannot be added after the reservation has been made. Referrals apply to full cabins only; they do not apply to individual guests within a cabin or during the pre-sale period. The program ends 30 days prior to sailing. When a referred cabin is booked, an email is sent to the referrer listing the lead passenger's name and email address.
Sign up for a Sixthman Username at sixthman.net/account and start referring today!
What is the Independent Traveler Program?
If you are planning on joining us for The KISS Kruise V, but you haven't been able to find someone to go with you, don't worry - this is the program for you!

The Independent Traveler Program (ITP) allows you to book a balcony cabin and only be responsible for your half of the cabin (plus the standard taxes and fees of $275.00). However, by signing up for the ITP, you agree to be paired with another guest who is also participating in the ITP. Full details can be found here.

Interested? Have questions? Please contact us at KISSkruise@sixthman.net or call 877-379-9183 for this unique opportunity!