Attention, KISS Navy! For three years, you have come together with the loudest bands on Earth, upon the lonely expanse of the sea, and you have ROCKED!
Now it's time to look to the future. KISS Navy, it is our honor to once again request your time, your talent, and your amazing rock and roll energy for The KISS Kruise IV!
Save the date, KISS maniacs! In 2014, we set sail from Miami on October 31st through November 4th, aboard the mighty Norwegian Pearl. In addition, this year we'll be throwing one krazy pre-party October 30th, on the boat! Halloween once again belongs to the KISS Navy, and your The KISS Kruise IV theme, if you choose to accept it, is: DRESSED TO KILL!
Grab your face paint and some sun screen and come hang with the biggest band in history as we turn the ocean into a staging ground for the ultimate rock invasion!
Get pumped for your next KISS Navy GETAWAY on Halloween 2014. It'll be the wildest party yet, so C'MON AND LOVE IT!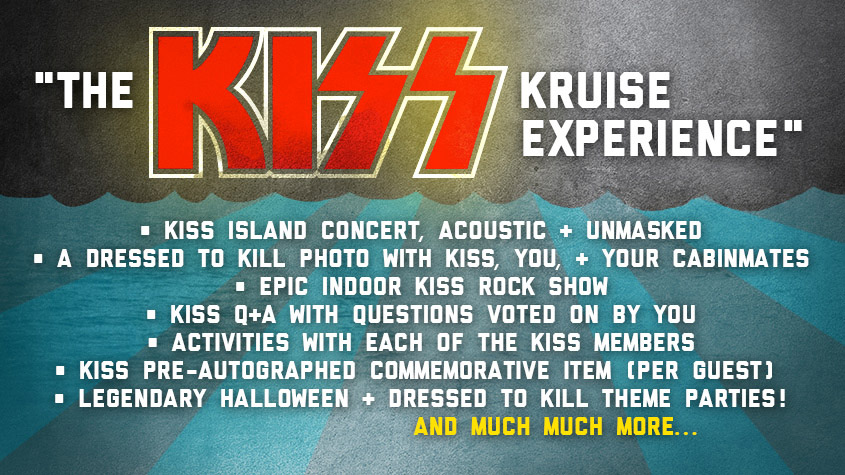 UPDATE about Great Stirrup Cay: The island is undergoing renovations that will be complete by the time we sail. Some of the highlights include 10 New Private Cabanas, A Lagoon, A New Oceanside Bar, New Food Pavilion, Trams to Shuttle Guests to the end of the Island and more sand to make your toes more comfortable.
MORE Rockin' NEW KISS KRUISE IV Assignments:
SAIL AWAY
With KISS performing on the island, we are inviting the other artists to take us out to sea with a jam where each of them performs their favorite KISS song on the Pool Deck. We can also celebrate the Big Yellow Slide being removed from the pool deck for better viewing!
SOUNDCHECK STAGE
The KISS Navy always has great suggestions for new bands and some of you are in bands so we are dedicating the Bar City Stage as a "Soundcheck" stage. This stage will feature 30 minute performances from bands that YOU nominate and will run during the entire cruise. Does YOUR band have what it takes to perform live on KKIV in the chance of a lifetime? Do you know a local band that would melt faces? We'll be selecting up to 5 bands this summer to showcase their talents onboard. Standby for information on how to begin the nomination process.
ALL STAR KRUISER BAND
This is YOUR vacation and we want to shine the spotlight on YOU, our Kruisers. The Drum Off was such a hit last year, why stop there? We'll be putting together competitions to create the HOTTEST Kruiser Band comprised of a lead guitar, bass, drums, & vocals! Qualifiers will be held on the cruise where we will select 4 Guitar, 4 Bass, 4 Drummer and 4 Vocalists to be grouped together and challenged to learn and rehearse one KISS song to perform on the last day of the cruise. We will also select one group made of kids to join them.
COMMEMORATIVE SIGNED KISS ITEM
This year we are also working on something a little cooler than just a poster. This exclusive item will reflect the "Dressed to KILL" theme in an exciting new way!
iConcierge
Download NCL's app, iConcierge, to your iPhone/iPad, Android, or Windows 7 device. iConcierge gives you onboard access to the schedule, allows you to make reservations for dining and shore excursions, and more - all without an internet connection. You can even text message or call your friends on board with the app's messenger feature! (Each guest must add the app and iConcierge service to work between devices.)
*App is free, but there is a small fee to use the messenger service on board. Consult the app for exact pricing.
---
Cruise Itinerary
(Subject to change)
Thursday, October 30, 2014 - Pre-Party on Ship (additional purchase; departs 8PM ET)
Friday, October 31 - Depart Miami, FL (approx 4:00 PM ET)
Saturday, November 1 - Great Stirrup Cay, Bahamas (8AM to 5PM)
Sunday, November 2 - Nassau, Bahamas (8AM to 6PM)
Monday, November 3 - Day At Sea
Tuesday, November 4 - Arrive Miami, FL (approx. 8:00am ET)
We recommend that you book your flight home to depart no earlier than noon to ensure ample travel time.
---