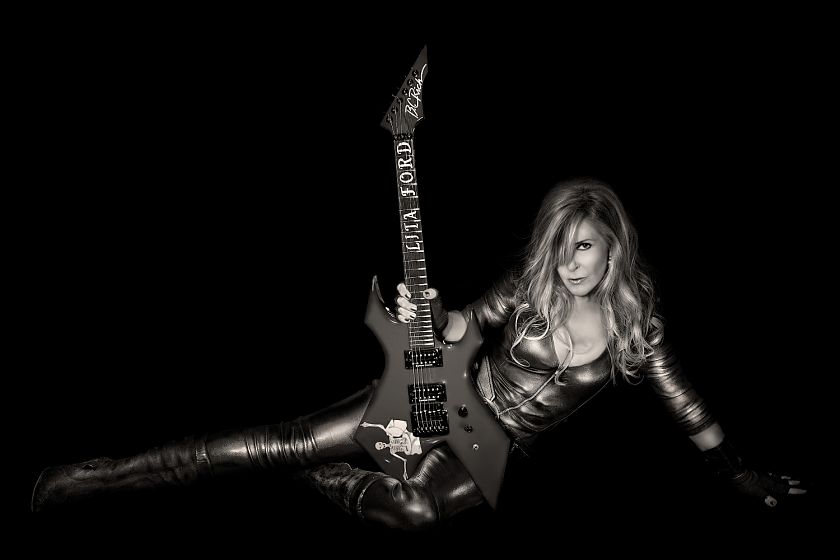 Lita Ford (Super Jam)
Lita Ford (Super Jam)
We are excited to welcome Lita Ford aboard as our featured artist for Week 1's All Hands On Deck Super Jams!
One of two solo stars to spring from the ashes of the '70s all-girl hard rock band the Runaways, Lita Ford has long been a more frustrating, contradictory proposition for critics than former colleague Joan Jett. Ford is subtly feminist in her musical approach, displaying guitar heroics on the level of any male metal hero; the mere fact of her existence in the otherwise testosterone-driven heavy metal genre has made her a hero to some, but her persona has often been criticized as calculated to appeal to male adolescent sexual fantasies, simply embodying the standard wild-girl stereotypes of many male metal artists' lyrics. When she has the material to back her up, though, Ford is inarguably capable of rocking out aggressively and assertively.
Ford was born on September 19, 1958, in London, emigrating to the U.S. as a young child. She began playing the guitar at age 11; just five years later, she joined the Kim Fowley-produced Runaways, an all-female project designed to mix the aggression of simple, punky hard rock with teenage bad-girl sex appeal. When the band dissolved, Ford took voice lessons and embarked on a solo career, supporting herself through a variety of jobs (gas station attendant, perfume salesperson, fitness instructor, hairdresser, etc.). She released her debut album, Out for Blood, in 1983; it was followed the next year by Dancin' on the Edge.
Nothing was heard from Ford for the next four years; the follow-up to Dancin' on the Edge, titled The Bride Wore Black, was abandoned and never released, as Ford switched from Mercury to RCA. By the time Ford returned, the lighter pop-metal she had long favored had broken through to mainstream audiences, which set the stage for her most successful album, 1988's Lita. Slickly produced by Mike Chapman, the album featured Ford's first hit, the number 12 "Kiss Me Deadly"; its follow-up, a duet with Ozzy Osbourne entitled "Close My Eyes Forever," provided both artists with their first Top Ten single.
Ford celebrated her newfound success with a marriage to W.A.S.P. guitarist Chris Holmes, but unfortunately, this, like her commercial success, would be short-lived. Follow-up efforts like 1990's Stiletto and 1991's Dangerous Curves failed to match the popcraft of Lita, and Ford found herself without a label after alternative's explosion in the early '90s. She married Jim Gillette, former vocalist with hair metal kings Nitro, had two children and moved to the Caribbean. She eventually re-emerged on the scene in the 21st century with the uncharacteristically heavy Wicked Wonderland in 2009. The album was released on her own label, JLRG Entertainment; the set was co-produced by Greg Hampton, Ford, and Gillette. In the years that followed Ford went through a particularly messy divorce with Gillette, and resurfaced in 2012 with eighth solo album Living Like a Runaway, a cathartic break up album with themes of divorce, betrayal and estrangement throughout. The album was co-produced by Gary Hoey and represented a return to the more tuneful pop metal Ford had enjoyed the most success with in the early 90's.
In 2016, Ford published an eagerly anticipated tell-all autobiography entitled Living Like a Runaway in February, and released the album Time Capsule in April. The recording featured guest spots from Rick Neilsen, Robin Zander, Gene Simmons, and Dave Navarro.